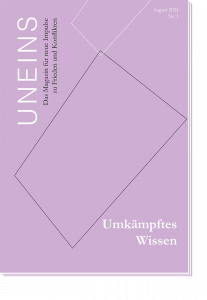 Here you can order the first issue of UNEINS!
On forty pages, a multitude of contributions deal with the topic of "contested knowledge". You can look forward to contributions on positionality(ies) in research on peace and conflict, illustrations, audio formats and poetry, as well as reports from the field and new perspectives.
This Issue is refinanced by your donation!
We propose 7 Euros, but are happy about any kind or amount of support.
Your donation will go directly to us and the authors via Mosphit e.V. and its chairman Elias Molle. It is important that you mention UNEINS in the payment reference:
Elias Molle
payment reference: UNEINS
Account no.: DE66 8609 5604 0007 1448 90
If you would like to order more than one copy, please note this in the text field or contact us by email!
About MOSHPIT e.V.
MOSHPIT e.V. is committed to a grassroots approach to connecting art and cultural actors. For this, they regularly offer workshops and seminars and facilitate self-publications in various forms. The focus is on feminist topics that are told by personal experience. The biannual Moshpit zine is the centrepiece of the association, which revolves around feminist actors, their work and their experiences. @moshpit_zine
MOSHPIT e.V.
Verein für Selbstveröffentlichungen und Druckerzeugnisse Vorsitzender & Schatzmeister:
Elias Molle
Bergstraße 9
04315 Leipzig
Vereins-Registernummer: 5897
Steuer-Nr.: 90562188377
Feel free to contact us if you need a donation receipt!